COMMISSION STATUS: CURRENTLY CLOSED

*Please read before Submission*
Hello and welcome to the Commissions page! If you are interested in hiring me to bring a character or an idea to life this is the first step! Listed below will be a set of guidelines that I'll be using for now in order to help you (as the client) understand my limits as the Artist for the Commissions offered here.
Pricing
I know the first thing that comes to mind is price. How much do I charge and how do I accept payment? The pricing set below are guidelines for how I price works based mostly on they type of Commission requests I receive. The actual final pricing will be determined based on the client's ideas and subject matter and will be discussed via email. Below are examples of completed Commissions and their associated prices.
Single Character or Figure (No Color)
$300 (price will range based on complexity)
Single Character or Figure (Color) $400-$450 (price will range based on complexity)
Multiple Characters (Color)
$600-$750 (price will range based on complexity)
Other:
This option is reserved for anyone with a different project in mind (big or small). Please list in detail what you are interested in. Keep in mind the prices in this area could vary greatly and there is no guarantee that I will be available to take on the project.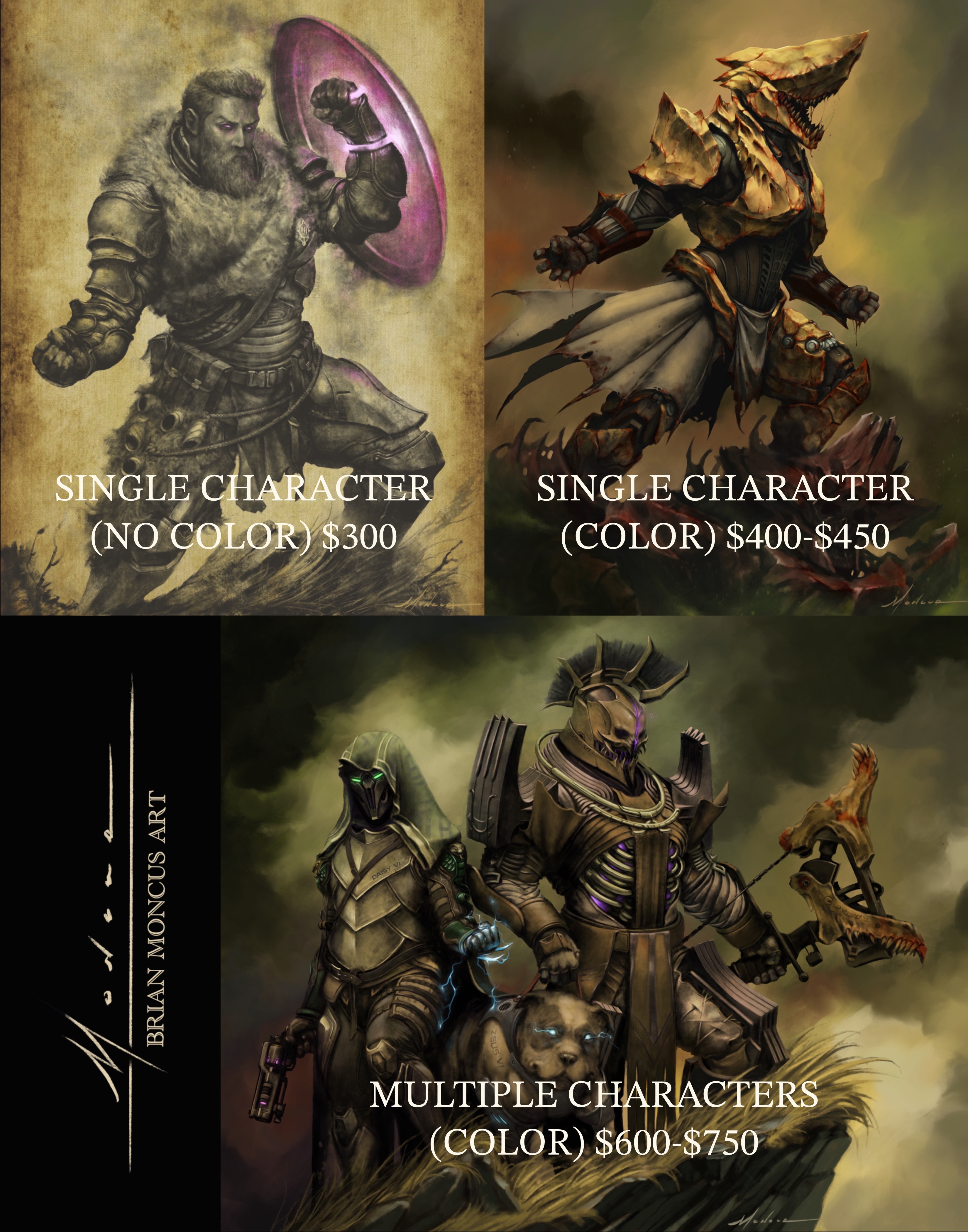 Payment and Delivery
Payment is accepted via Paypal Invoicing only. If the Commission is accepted and after pricing is agreed on, payment will be invoiced in two parts. 50% at start and 50% upon final approval. Once the final payment is complete a high resolution file of the commission will be sent via google drive link for download. For U.S. based clients I also offer a free large hand signed print with a size limit of up to 13"x 19" with adjustments based on the dimensions of the Commission. Note: This is available for international clients as well but shipping will be charged.


The Commission Process (What to expect)
During the Commission process you will receive an initial email from me (
[email protected]
) to discuss the ideas you have and to determine exact pricing based on the scope of your commission. I will send an initial rough sketch for approval based on the ideas discussed for the Commission. After this approval any changes to the design should be minimal. If anything additional is to be added that was not previously discussed, I reserve the right to decline or proceed and add any additional agreed upon costs based on the changes requested.
Rights and Usage
All Commissions are created for personal use. This means you can do anything you want with your Commission as long as it does not involve monetary gain based on the sale of the design. Commercial use is prohibited as I retain all rights to the created work. If Commercial use is desired, the rights to do so can be purchased once those terms are discussed. If work is to be used for Social Media purposes or videos such as Youtube, proper credit is expected to be given to me as the Artist.
Cancellation of Commission/Refund Policy
Commissions cancelled after the first payment has been made will be subject to only a 50% refund of that initial payment. I reserve the right to cancel any Commissions at any time however if this happens you will receive a full refund.
To submit a Commission please fill out the Submission form linked below: (link to commission form will return when I reopen commissions. Thank you!)